International Shipping now $99 flat
Commerical Orders: Please contact us for bulk discounts and lead times. The Mint White Series needs 1-3 mo lead time for large orders
Clearance and Liquidation Models start at $400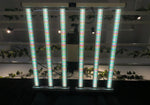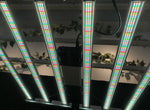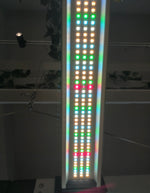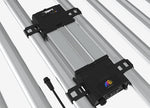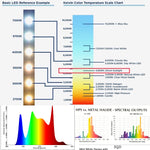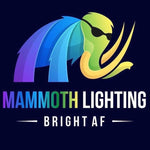 * New: 6 Bar, 680w Mammoth Lighting Mint White Series with Emerald Green Canna Spectrum: Instock - Shipping Late October
Regular Price

$675.00

Sale Price

$675.00

Regular Price

$675.00

Unit Price

per
NEW "Mint White" Series  Utilizing Samsung's Mint White Evo Chip and Emerald Green Canna Spectrum

Samsung's newest EVO chip has landed with Mammoth and a revolution in plant lighting has arrived.  Using a differentiated spectrum, trials show larger and heavier growth….even under the same ppfd conditions. 
Samsung's innovative plant-centric spectrum LED dramatically boosts photosynthesis over existing horticulture lighting solutions and results in better, more holistic plant growth. Its 437 nm spectral peak, a shorter wavelength than that of conventional horticultural white LEDs, also stimulates secondary metabolites, such as phenolics and flavonols, to improve plant's nutritional quality.
Moreover, this newly engineered spectrum effectively inhibits the growth of microorganisms like bacteria and fungi, leading to longer-lasting storability. Lastly, its industry-leading PPE consumes minimal energy, contributing to long term energy-savings and reduced operational costs for indoor farms.

On to Green: Many believe the plant reflects this color. The facts are - green is photosynthetic although less so than other colors at low ppfd levels but MORE so at higher ppfd levels due to its deeper leaf penetration properties. See the graphs - With cannabis requiring high ppfd - wouldn't it make sense to include a good portion of green in the spectrum like nature?  We have now!
After years of testing, Mammoth Lighting has put together a proprietary spectrum to to optimize plant growth, increase yields and produce faster flowering times .... all while consuming less energy and reducing operating costs compared with traditional horticulture technologies.    
This is a new launch with significant commercial demand.  Due to limited supply of the new diodes and production capacity....we anticipate lead-times will continue to build as we get new orders.  Once your order is in - the anticipated date should not change.  
Buy 5 or more get 5% off / Buy 10 or more get 7% off:  Discount automatically added
Features:
1.  432 diodes per bar delivers the industry's Highest PPFD and Yield. 
2.  6 Bar 680w
3.  Full"er" spectrum: With a proprietary blend of Samsung EVO + High Efficiency 3000k + 5000k + 660nm + 730nm + Emerald Green diodes, for full cycle growth. 
4.  Up to 6x6 flower coverage, 7x7 veg coverage
5.  Standard Knob Dimming + RJ port to connect multiple lights to an external controller.
6.  Higher Quality parts then the competition using both Samsung diodes and Inventronics drivers
7. Smart Diode spacing + Strategically designed bars/spacing + delivers even lighting coverage (and growth) 
8. Removable bars + Driver for quick field and warranty service
9. Remote mountable driver leaves more room in vertical settings and less heat in tents
10. Future proof with replaceable bars and driver as technology advances.....
Why would you pay MORE for the competition to Yield LESS?
Higher Light Intensity (yield), Better Coverage, Fuller Spectrum, Higher Quality parts, More advanced features, Same Warranty and SIGNIFICANT Savings.....  
Details
Product: LED grow lights 
PPF:  2095 µmol/s
PPE:  3.05
Power: 6 bar 680W Inventronics 
Voltage: AC100-277V 50-60Hz
LEDs: SAMSUNG "Mint White" EVO LM301h + High Efficiency (3000k + 5000K + Emerald Green) and Proprietary RED (660nm and 730nm) 
LED lifespan: 50000 Hours
Dimension: 44 x 44 x 3"
Warranty: 5 years
Lighting sold by Mammoth Lighting LLC is intended for production of products for Urban Farms and production under the U.S. Domestic Hemp Production Program (Cannabis sativa L.), not medical or recreational marijuana. Marijuana remains a Federally controlled substance and is illegal to cultivate under Federal law.
Enter the content to use inside the accordion panel selected.