November Updates:
International Shipping now $99 flat
Commerical Orders: Please contact us. The Mint White Series needs 1-3 mo lead time
Clearance and Liquidation Models start at $400
Buy Now Pay Later is Active at Checkout
Black Friday Live NOW: Use Code at Checkout: 5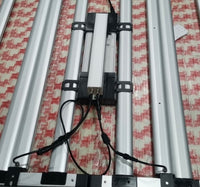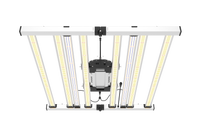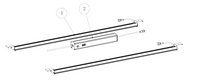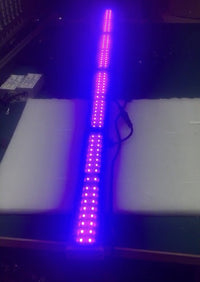 UV Upgrade Kit for Mint White Series (2 UV bars + 100w driver)
Regular Price

$299.00

Sale Price

$299.00

Regular Price

$350.00

Unit Price

per
Unlock the Power of True UV with the Mammoth UV Upgrade Kit
Key Features:
Authentic UV: This kit delivers true UV with both UVA (395nm) and UVB (310nm) wavelengths, offering unparalleled benefits to your plants.
High Power and Diode Count: Featuring 100W power and 136 diodes per bar, it provides robust UV coverage. Don't settle for weaker alternatives with only 30W and 20 diodes; when it comes to UV, authenticity matters.
Versatile Use: The kit includes 2 UV bars and a 100W driver designed to seamlessly clip onto the light fixture (Mint White Series Light sold separately). Additionally, it can be used as a standalone option with UV bars, a driver, and a plug.
Recommended Usage: For optimal results, hang the UV bars between existing lights during the last 2-3 weeks of flowering.
Why UV Light Matters: UV wavelengths wield remarkable power. They can alter a plant's color, flavor, and aroma, often making them more appealing to humans while acting as a deterrent to certain insects. Plants with increased levels of these flavor and aroma compounds are less likely to be targeted by insects. Furthermore, strong evidence suggests that UV light can help prevent the spread and severity of fungal spores and increase THC.
Product Details:
Product Type: UV LED grow light with 2 strips.
Power: 100W ± 5%
Spectrum: 395nm and 310nm
LEDs: Equipped with 136 high-quality LEDs per bar
Beam Angle: 120 degrees for efficient light distribution
LED Lifespan: Guaranteed for 10,000 hours of reliable operation
Warranty: Enjoy peace of mind with a 1-year warranty.
Recommendation: While UV usage is still considered experimental, we recommend deploying it during the last 2-3 weeks of flowering, or up to the full 12-hour cycle. This strategy aims to potentially reduce powdery mildew and microbial presence, resulting in cleaner cannabis. Additionally, UV exposure can trigger a stress response that may enhance cannabinoid production. It's worth noting that UV can be damaging to plant DNA and reduce yield if used during the heavy bulking stage. However, it's reassuring to know that we have not encountered yield reduction or hermaphrodite issues with our UV kit.
For those considering using UV during the vegetative stage, please be aware that UV diodes have a limited lifespan of 10,000 hours.
Lighting sold by Mammoth Lighting LLC is intended for production of products for Urban Farms and production under the U.S. Domestic Hemp Production Program (Cannabis sativa L.), not medical or recreational marijuana. Marijuana remains a Federally controlled substance and is illegal to cultivate under Federal law.
Enter the content to use inside the accordion panel selected.